AFFORDABLE CONNECTIVITY PROGRAM
Save up to $30/mo. on a Metro plan.
Limit one discount per eligible household.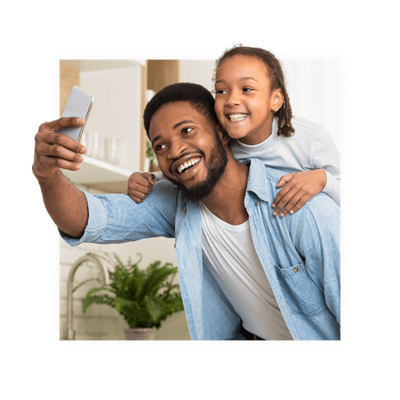 The federal Affordable Connectivity Program offers payment assistance on data plans to eligible households based on income and other factors.
Steps to save on a new Metro plan:
With pre-approval, a credit will be applied to your first bill. Once approved, your ACP benefit will be applied to your account for following bill cycles. Limit one discount per eligible household.
Find the perfect plan for you.
Each includes unlimited talk and text.
$0/mo.
With the Affordable Connectivity Program and AutoPay
$10/mo.
With the Affordable Connectivity Program
$20/mo.
With the Affordable Connectivity Program and AutoPay
$30/mo.
With the Affordable Connectivity Program and AutoPay
$5 AutoPay discount available on select plans; discount begins month after enrolling in AutoPay. If congested, the fraction of users > 35GB/mo. may notice reduced speeds and Metro customers may notice reduced speeds vs T‑Mobile due to prioritization. Video streams at up to 480p. Unlimited on handset and network only. Sales tax and regulatory fees are included in the monthly plan price.
Got Questions?
What is the Affordable Connectivity Program?

The Affordable Connectivity Program (ACP) is a federal government program that provides a discount of up to $30 per month for broadband services for eligible households. Consumers who live on qualifying Tribal lands can receive enhanced support of up to $75 per month toward broadband services. ACP is non-transferable and limited to one monthly internet discount per household; if the Program ends, or when a household is no longer eligible, you will be subject to Metro by T-Mobile's regular rates, terms, and conditions. ACP launched at Metro by T-Mobile on January 27, 2022
When do I need to recertify and how?

Visit ACP recertification to learn about recertification.
ACP guidelines require customers to recertify every year to demonstrate they still qualify. Once you receive a letter from USAC, you must complete the recertification process before the deadline stated in your letter – usually within 60 days of when you receive it.
My ACP application got declined, what do I do now?

There may be an issue verifying your eligibility for the Affordable Connectivity Program. Please visit ACP Enrollment Denial Error Troubleshooting for more information and ensure all information matches and is accurate across the National Verifier and your Metro account.
Eligibility
Who is eligible?

A household is eligible if one member of the household meets at least one of the criteria below:

Has an income that is at or below 200% of the federal poverty guidelines;
Participates in certain assistance programs, such as SNAP, Medicaid, Federal Public Housing Assistance, SSI, WIC, or Lifeline.
Participates in Tribal specific programs, such as Bureau of Indian Affairs General Assistance, Tribal TANF, or Food Distribution Program on Indian Reservations.
Is approved to receive benefits under the free and reduced-price school lunch program or the school breakfast program, including through the USDA Community Eligibility Provision in the 2019-2020, 2020-2021, or 2021-2022 school year.
Received a Federal Pell Grant during the current award year.
Meets the eligibility criteria for a participating provider's existing low-income program.

Visit USAC here to learn more about eligibility requirements. Please contact the National Verifier if you have any questions concerning your eligibility.
What if I am on a plan that is less than the $30 benefit? How does that work?

The ACP program is designed to cover the standard cost of home internet or mobile internet access service. At Metro by T-Mobile, you will receive a discount of up to $30/month ($75 in qualifying tribal areas. If your plan is less than $30/month or less, the ACP discount will cover it in full.
My income status recently changed, and I qualify now but didn't before, can I re-apply?

Yes, you can reapply with the National Verifier to see if you are eligible for ACP.
What plans are eligible for ACP and do I have to change mine?

All Metro by T-Mobile rate plans with smartphone data qualify for the ACP benefit. This means you may keep your current data plan or pick a new one that works best for you!

Visit our rate plan information to learn more about our current rate plan offerings.
I qualified for ACP and have been receiving discounts but was just notified that I am no longer eligible. Why?

Changes in your financial circumstances may impact on your eligibility for ACP. If Metro by T-Mobile learns that you no longer qualify for ACP as mandated by the FCC, Metro by T-Mobile will notify you and remove your ACP discount.
To learn more about your discount removal and to learn next steps, visit ACP Enrollment Denial Error Troubleshooting.

To reapply or to inquire about your eligibility, contact the National Verifier here.
What is a "household" for the ACP benefit program?

A "household" is defined as any individual or group of individuals, related or unrelated, who live together at the same address and who contribute to and share the household income and expenses.

An adult is any person eighteen years or older.
If an adult has no or minimal income, and lives with someone who provides financial support to them, both people shall be considered part of the same household.
Children under the age of eighteen living with their parents or guardians are part of the same household as their parents or guardians.
Application Process
How do I apply for the ACP benefit?

To apply for the ACP benefit, you should follow the steps outlined on this webpage:

Check eligibility and complete the ACP application with the National Verifier.

The National Verifier determines your eligibility for ACP and approval times may vary.

If you are not a customer already, join Metro by T-Mobile in store or activate your service online with select phones or an e-sim.
Visit My Account on metrobyt-mobile.com and fill out the Metro ACP application or stop by your nearby Metro by T-Mobile store for assistance.
Once submitted, Metro will review the application and send you a text informing you of your enrollment status. The discount will be active on the next billing cycle.
Who on my account is going to get the notifications?

The primary account holder will receive all notifications associated with the ACP program. If no primary account holder is established on the account, the billing party responsible will receive the notifications.
Why do I have to wait for my next bill to get the discount? Shouldn't I get it now since I qualify now?

Metro by T-Mobile will apply the discount to your account as quickly as possible, but application of the discount in Metro by T-Mobile's systems may cause a short delay.
What ACP is and how it works
Will I keep the ACP credit forever?

The ACP discount with Metro will be in place until the federal government funds for the program are depleted (and not renewed), conditions of your eligibility change, or your service with Metro by T-Mobile ends.
Can I change my phone number after the ACP discount code has been applied to my account?

You can change your number and still retain the discount. There are processes in place to verify if a phone number changes. Metro by T-Mobile will need to associate your new phone number with your ACP discount, which may delay application of the ACP discount to your new phone number for a brief period.
I want to switch from [AT&T, VERIZON, ETC], and I have an ACP credit, can I bring my discount with me?

Yes, you can transfer your ACP benefit to Metro by T-Mobile! When you fill out your information with Metro by T-Mobile, make sure you check the box to transfer your ACP benefit to Metro.
What happens to my service after the ACP Program ends?

The automatic ACP credit will be removed from your account, and your rate plan will continue at full price. If you changed rate plans to take advantage of the ACP credit, you will not be placed back on the original plan.
I have home internet AND my cell phone has internet – do I get a discount on both?

No, the FCC stipulates that the ACP discount can only be applied to one service for each eligible household. If eligible, you may apply for the ACP credit to your Metro by T-Mobile rate plan, but you could not also apply for an ACP credit to your home internet provider. Eligible households are entitled to a one ACP benefit only.
Other
What happens if I do not use the phone connected with the ACP discount?

Under FCC rules, if you are on a plan where the ACP discount covers your monthly fee, you must use your Metro by T-Mobile service at least once every 45 days to keep your account active. If no activity is registered on your account after 30 days, you will enter a 15-day cure period before you are de-enrolled from the Affordable Connectivity Program and the discount is removed from your account. To maintain the Affordable Connectivity Program discount, simply place or receive a call, send a text, or use your mobile data (off a Wi-Fi network) each month. If your Affordable Connectivity Program discount is removed due to inactivity, you may reapply at any time by visiting metro-tmo.com/ACP
Need help resolving an issue with the ACP?

If you have concerns about the enrollment process or the quality of the ACP service Metro by T-Mobile is providing, you may call our Care team at 1-888-8Metro8. You may also file a complaint with the Federal Communications Commission's (FCC) Consumer Complaint Center, at https://consumercomplaints.fcc.gov/hc/en-us or by calling 888-CALL-FCC (888-225-5322).