Google One
It's time to activate your membership
Turn off your Wi-fi and tap below to get started.
Capable Android device and qualifying rate plan requird.
Metro® by T-Mobile now includes Google One
Here's how to activate your membership.
Download the Google One app.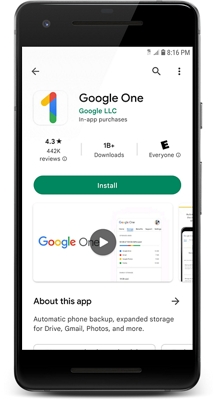 Open the Google One app.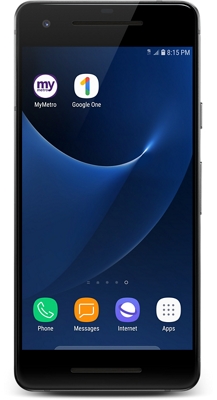 Follow the on-screen instructions.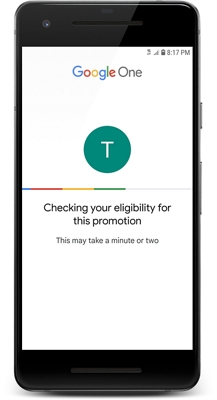 Turn on Backup to keep your memories and files safe.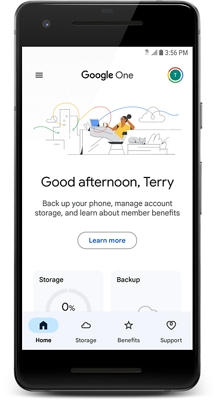 You're one step away from keeping your mobile device backed up and enjoying these benefits.
AUTOMATIC BACKUP

Keep all your photos, contacts, messages, and more automatically backed up with Google One. And if you break or lose your phone, seamlessly restore everything to your new one.

EXPANDED STORAGE

Get more space for everything with 100GB of cloud storage across Google Drive, Gmail, and Google Photos. Find what you need from any device, anywhere.

PREMIUM SUPPORT

Get help when you need it with access to Google One experts. Available via chat, email, or phone to help you with any questions about Google products.

MEMBER BENEFITS

Enjoy special features and offers that help you get more out of Google, like Google Photos editing tools, Google Play credits, and more.

FAMILY SHARING

Invite up to 5 additional family members to your plan and you can share your storage, premium support, and member benefits with everyone.
Activate your Google One membership now to start enjoying all of these great features.
To activate, turn off your Wi-Fi and tap Get Started
Still Have Questions?
What is Google One?

Google One is a new, shareable subscription service that helps users get more out of Google - with expanded storage, direct access to experts, and members-only benefits across Google. In addition, eligible Metro® by T-Mobile customers get the added benefit of automatic mobile backup, which securely backs up their Android device's photos, videos, and multimedia messages sent via Android Messages.

Access Google One through one.google.com or by downloading the Google One app from the Play Store. [Note: automatic mobile backup can only be enabled by downloading the app for Android devices only]
How can I pay for Google One?

If you're on an eligible Metro® by T-Mobile plan, the cost of a 100 GB Google One subscription is included in your rate plan at no extra cost. You can upgrade your Google One storage allotment through the myMetro app or Metro Customer Care by dialing 1-888-8METRO8 if you exceed your storage limit.
How much storage do I get free today?

Every Google Account has 15GB of free storage shared across Google Drive, Gmail, and Google Photos.
I'm a Drive user - how does this impact me?

All paid consumer Google Drive storage plans have been upgraded to Google One. This change doesn't affect GSuite business customers. There are no changes to our free storage plans with Google - Google One is an upgrade to our paid consumer storage plans.
What's the price?

If you're on an eligible Metro® by T-Mobile plan, the cost of a 100GB Google One subscription is included in your rate plan at no extra cost with options for more storage. Same as with Drive storage, additional plans can be purchased month to month like with most other subscription products. Currently, for Metro to cover the cost of the Google One membership you must activate your membership within the Google One app from an Android device.
Do I have to get the app?

You will need to download the Google One app from the Google Play Store or Apple Store and sign into a Google account to register and set up mobile backup. Once you've set up your membership, you have the option of accessing your Google One member benefits at one.google.com or through the app.
How is Google One different from Drive?

Google One subscriptions come with storage that can be used across Google Drive, Gmail, and Google Photos (for Original quality photos). Drive works exactly the same way as it always has. The difference is that with Google One, you get more storage and additional benefits (access to experts, benefits, other exclusive features to come) and can share these, along with storage, with your family.
General: Not all phones or features available on all service plans. Certain restrictions apply. Coverage and services not available everywhere. Rates, services, coverage, and features subject to change. Phone selection and availability may vary. Metro by T-Mobile features and services for personal use only. Service may be slowed, suspended, terminated, or restricted for misuse, abnormal use, interference with our network or ability to provide quality service to other users, or significant roaming. On all plans, during congestion, top 3% of data users (>35GB/mo.) may notice reduced speeds until next payment cycle. See store or metropcs.com for details, coverage maps, restrictions and Terms and Conditions of Service (including arbitration provision). Metro, MetroPCS and other words, slogans, designs and devices are registered or unregistered trademarks of T-Mobile USA, Inc. Google One is a trademark of Google LLC, All other brands, product names, company names, trademarks, service marks, and other intellectual property are the properties of their respective owners. Certain assets © 2019 Google LLC. Copyright ©2019 T-Mobile USA, Inc.